Shopping with a purpose.
When you shop the Goats of Anarchy online store, you're supporting the care and comfort of animals like Basil, pictured here. Goats of Anarchy is a sanctuary that over 200 animal residents call home. We specialize in the rescue and rehabilitation of animals with disabilities. It's expensive work, but the animals are worth every penny.
You can help us help animals simply by shopping! Explore our store, and discover merchandise that's just as cute as the animals it supports!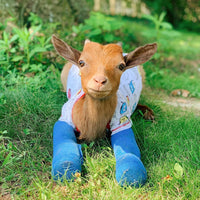 Please note:
All merchandise is printed upon order. Please check size charts before ordering, as we do not accept returns due to incorrect sizing.
Orders are generally shipped between 2-7 business days, but may take longer, depending on the size and type of items ordered. We cannot guarantee delivery by a specific date.
Please click here for suggested holiday ordering deadlines.
Please contact shop@goatsofanarchy.org with any questions prior to ordering.